Complete Equestrian teaches students from ages 3 through adults. We teach riding skills for both English and Western disciplines. Our focus is having harmony with your horse, building correct balance and confidence on your horse; no matter what discipline you are interested in pursuing. From beginning to advanced riding skills, you will always have a fun, safe and educational ride.
Lesson horses, tack and helmets are available for no additional cost. We have a number of horses available for lessons to suit any level of rider.
Each rider will be instructed and taught based on their ability and needs. Our focus is on safety, having fun and learning great horsemanship!
We offer a minimum of 4:1 student to instructor ratio.
If your rider needs a side walker or horse leader, we ask that a parent or guardian be available to help lead their horse or pony. This is helpful for young riders under 8 years of age.
Attire
Please wear long pants, breeches or jodhpurs. Footwear should be a paddock boot, cowboy boot or a tall boot. Riding gloves are recommended but not required. It is encouraged that you have your own riding helmet, but we have several for you to borrow.
Always dress for the weather. Use THIS GUIDE to help you be better prepared for our colder months.
Rates
Private lessons are $85/per class
Session Costs are discounted to $48/class. Example 10 classes = $480 for a group class.
Payment for full session required to sign up. Up to 2 make up classes are offered per session in available classes for missed classes.
Drop in group lessons are $53/per participant/per drop in class. These can only be scheduled one week at a time, and after a session has already begun.
If you know in advance specific days you will be missing class, we are happy to work with you. Please let us know the days you will not be able to attend when filling out your registration form. We will email you a list of optional make up days and times in available classes.
Cancelations
Tardy: Please let us know if you are going to be late by calling us. If you arrive more than 15 minutes after your lesson begins, you will not be able to ride in class that day and a make up option may not be available.
Classes cancelled due to the weather are refunded to your account. You may either receive a refund at the end of the session or use your credits to apply to future uses.
Due to the erratic weather in Colorado, we wait until at least 1hr prior to class to cancel in the event of poor conditions. You will be notified via text message and email that class has been cancelled.
Make Up Class: If you would like to attend a make up class in one of our open classes, please let us know. You must cancel your class 48 hour in advance in order to qualify for a make up class. We will allow one "sick" day per session in the event that the rider is not feeling well. We cannot guarantee availability for make up classes.
Refund Policy
Riding Sessions are NON REFUNDABLE. Your space in class is reserved with your full payment for the session.
Class Descriptions
Therapeutic Riding: This class will be taught by a PATH Certified therapeutic riding instructor. Scholarships are available. *Requires prior approval

Youth 5-8 : This class is for riders age 5-8 years of age. A parent/guardian may need to be available to lead and assist their rider for safety reasons.
Youth 9-12: This class is for riders age 9-12 years of age. Each rider will be taught at their ability level.
Youth 13-16: This class is for riders age 13-16 years of age. Each rider will be taught at their ability level.
Adult Beginner: This class is for beginning adults, age 17+, with no prior horse experience.
Adult Intermediate: This class is for adults, age 17+, who are familiar with grooming and tacking and have walk/trot riding skills.
Adult Advanced: This class is for adults, age 17+, who can groom and tack on their own and are riding independentally at walk, trot and canter.
Please contact Nicole if you are unsure of which class you belong in prior to registration!
Register for Lessons
Late Fall Session runs from November 6- January 7, 2023
Late Fall Class Schedule
November 6, 2023 – January 7, 2024
Monday
Tuesday
Wednesday
Thursday
Saturday
Private Lesson
9:30-10:45am
9:30-10:45am
9:30-10:45am
Therapeutic Riding
9:30-10:45am
9-10:15am
Youth Group: 5-8 yr
4-6pm
4-6pm
10:30-11:45am
Youth Group:
9-12 yr
4-6pm
4-6pm
4-6pm
9-10:15am
Youth Group:
13-16 yr
4-6pm
4-6pm
12-1:15pm
Homeschool: 7-13 yr
1-3pm
Adult Beginner
11-12:15pm
12-1:15pm
Adult Intermediate
11-12:15pm
11-12:15pm
12-1:15pm
Adult Advanced
11-12:15pm
11-12:15pm
10:30-11:45am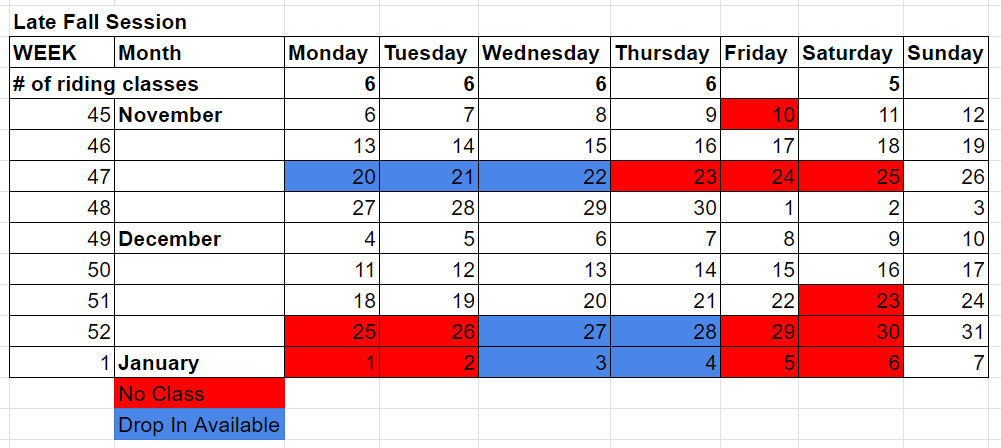 Upcoming Sessions
Late Fall Session: Nov 6, 2023- January 7, 2024
Winter Session: January 8 – March 10, 2024
Spring Session: March 11- May 26, 2024
Summer Session: May 27-August 11, 2024
Early Fall Session: August 12- November 3, 2024
Registrations open 1 month prior to next session:
Winter Registration Opens 12pm December 8th